ELECTRIFYING CHEVROLET, ONE VEHICLE AT A TIME.
We showed the world how simple and smart owning an electric vehicle can be - but that was just the beginning. With GM's Ultium platform and Ultifi technologies to power most of our vehicles, we're heading toward an all-electric future. We want you in the passenger seat with us for all the innovations, announcements, and reveals as we create some of the most exciting and advanced vehicles in Chevrolet's history.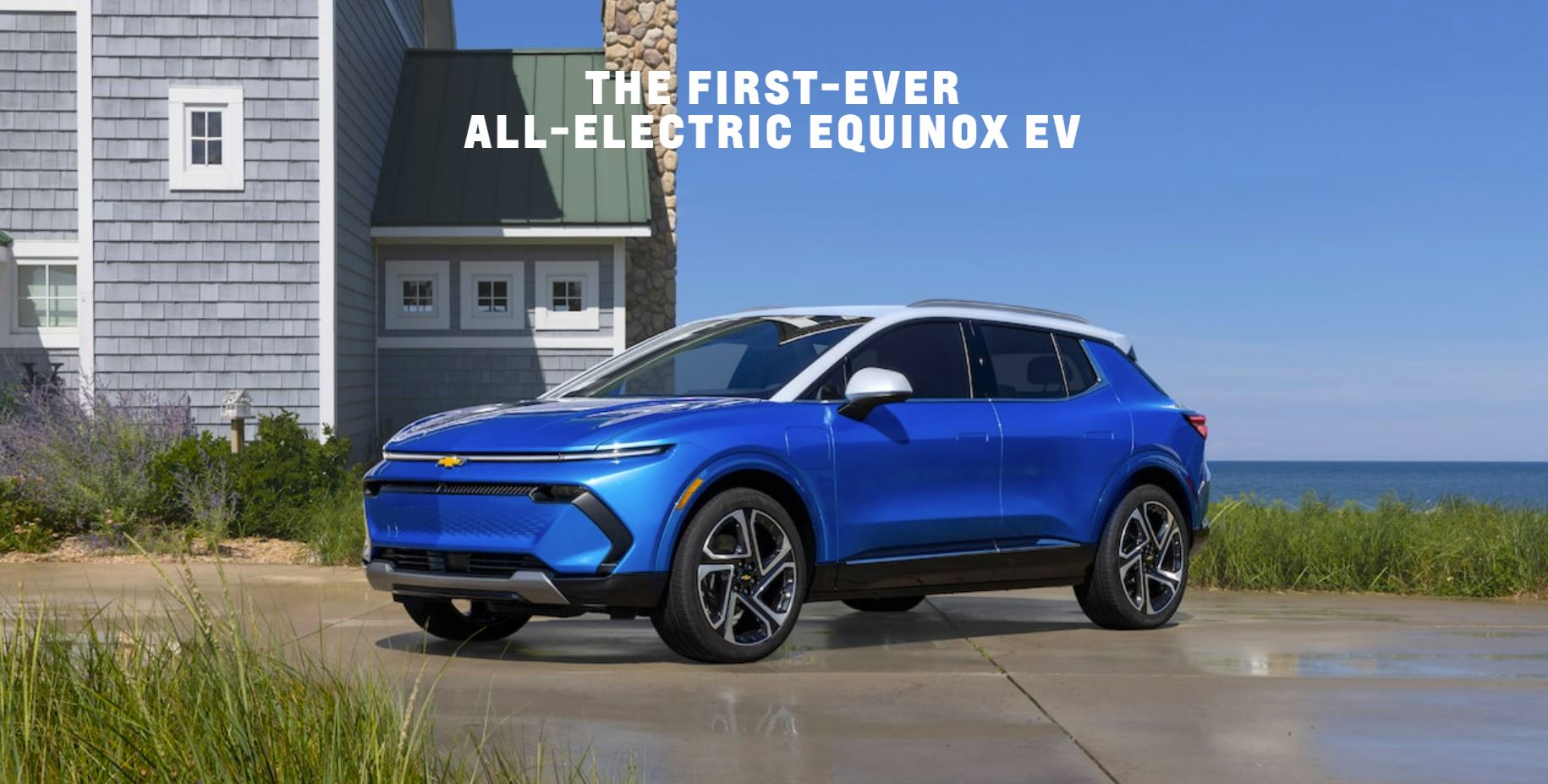 Preproduction 2024 Equinox EV 3LT model shown. Actual production model may vary. Full lineup anticipated availability Spring 2024. Limited quantities of 2024 Equinox EV 2RS available Fall 2023.

Chevrolet's top-selling SUV redesigned with the First-Ever All-Electric Equinox - featuring a sleek new design and confident capability that will help you conquer the everyday. And with an available GM-estimated electric range of up to 480 km on a full charge with 1LT, 2LT, and 2RS models, you can take it wherever the day takes you.
Preproduction model shown with available features. Actual production model will vary. 2024 Chevrolet Blazer EV SS shown. SS anticipated availability Fall 2023.
THE FIRST-EVER ALL-ELECTRIC BLAZER
Bold, futuristic design. An available GM-estimated Electric range of up to 515 km on a full charge with RS RWD model. Responsive acceleration of 0-96 km/h in under 4 seconds with Wide Open Watts performance mode enabled on SS trim. That's the First-Ever All-Electric Blazer EV. SS anticipated availability Fall 2023. 2LT & RS anticipated availability Summer 2023.
Simulated vehicle shown. Actual production model will vary. Available Fall 2023.

SILVERADO EV
Even with all the "new", Silverado EV is living up to the Silverado reputation. Charge ahead to check out this game-changing all-electric truck and reserve yours today. Available Fall 2023.

Powering the future.
Designed from the ground up to power our all-electric lineup, the Ultium Platform is our electric solution for the future - making electric propulsion, exhilarating torque, and zero emissions driving possible.

Redefining vehicle ownership.
Ultifi is GM's software platform that will usher in a new era of software-defined vehicle experiences and services. It will enable seamless delivery of upgrades, personalization options, and new and exciting apps to drivers on demand, plus regularly pushed software improvements.
CURRENT ELECTRIC VEHICLES - LET'S BOLT

BOLT EV
Simple. Affordable. Fun. The redesigned Bolt EV makes it easy to drive efficiently and confidently ahead.
BOLT EUV
Charge up and go places with Bolt EUV - the affordable electric crossover that moves with the current of life.